KPLI Grad Casey Lewis, M.D. Shares "Eye-Opening Moments" From 2017 Program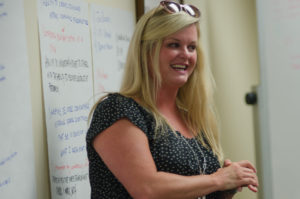 Casey Lewis, M.D., with Pediatrics of Bullitt County in Mt. Washington, is among the first class of physicians who participated in KMA's Kentucky Physicians' Leadership Institute (KPLI) in 2017, the premier leadership training program for Kentucky physicians.
The program is designed to enhance the leadership skills of physicians who can fill emerging leadership roles and influence health care policy in the ever-evolving world of medicine. Each year, this exclusive program selects up to 15 physicians to participate in a year-long series of learning events that cultivates the next generation of physician leaders across the state. Four weekend-long events culminate with the KMA Leadership Academy and help address many of the challenges facing the physician community. Topics in the series include "The Personal Side of Leadership," "The Business of Leadership," "From Leadership to Advocacy," and "Leadership in Action." The first class of ten participants was recognized at the 2017 Annual Meeting Leadership Dinner.
We recently asked Dr. Lewis about her experience participating in the KPLI.
What made you want to participate in the KPLI?
I saw KPLI as an opportunity to receive formal training to improve my leadership skills. I have always been an active participant on several boards and committees and wanted to hone my skills in communication and provide effective leadership.
What did you hope to learn?
I hoped to learn how to become an effective communicator and leader and how to be a better business owner and make connections with other physicians who share my interest in leadership.
What was the most interesting or surprising part of the program?
The diversity of our group.  We had representatives of varying ages, ethnicities, sexes, careers, and personalities. It really provided a great experience with many learning opportunities.
The opioid epidemic was the focus of this year's Leadership in Action session at KMA's Annual Meeting. What was your knowledge base of this crisis prior to the KPLI?
I had a vague knowledge base of our opioid epidemic. As a pediatrician, I care for "orphans" of the epidemic, but have only peripheral contact with this patient base. My classmates provided eye-opening dialogue and education about this crisis. Some are really down in the trenches educating fellow physicians and providing treatment to addicts. Reading the book Dreamland also provided an excellent reference for how we landed here. It was challenging to cover this topic because it truly is effecting every corner of our state—our friends, family, and neighbors.
What was the most challenging part about covering that topic?
Addiction is such a complicated disease process and the financial resources just aren't there to tackle its treatment. It was difficult for me to have an "aha moment" regarding the opioid crisis and also realize that there isn't an easy solution.
What are your plans for applying the skills you learned from the KPLI to your practice or daily life?
Many of the communication skills I learned are useful in communicating with patients and their families. KPLI made me a better listener and taught me to pause before acting. I have already applied the skills in making adjustments at our office, Pediatrics of Bullitt County. I will also use them as chair of the Kentucky Claims Committee for MagMutual Insurance Company.
What would your advice be for physicians considering applying? 
You will make lifelong friends, you will have moments of self-reflection, you will find areas in which you can improve your skills, and you won't regret it.
Register for the 2018 KPLI program at www.kyfmc.org/kpli-interactive-application-2018-2/ by February 28. For more information about the KPLI, visit www.kyfmc.org/leadership/ or contact Miranda Mosley at mosley@kyma.org.