KPLI Grad Tuyen Tran, M.D., Says Program Teaches Physicians to be "Change Agents" for Organizations
By Tuyen Tran, M.D.
2017 KPLI Graduate
Current President, Lexington Medical Society
Emergency Medicine, Internal Medicine and Addiction Medicine Physician in Lexington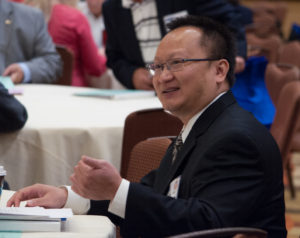 For multiple reasons, health care organizations need the distinct perspective physicians offer to leadership.  If you take someone who knows what quality care looks like and how to deliver that care, and you combine that with effective leadership, the resulting product is an opportunity to dramatically innovate and improve the healthcare process. The 2013 U.S. News and World Report rankings for hospitals reported that 10 of the 18 "Honor Roll" institutions reviewed were physician-led, and the top five were led by physicians. But clinical skills do not always translate directly into leadership ability. Leadership requires very different skills than the hard skills (technical competence and clinical expertise) which physicians often use to solve problems. KPLI succeeded in teaching the soft skills (relationship building, emotional intelligence) which are required to effectively develop leaders to serve as team builders, motivators, communicators, and change agents for organizations.
The Butler University staff did a wonderful job of differentiating between leadership and management. They provided much insight into the emotional intelligence concepts: self-awareness, self-management, social awareness and relationship management.  I especially appreciated the discussion regarding empathy, the heart of all relationships and our ability to sense and care for other's emotions. I agree that a leader's ultimate responsibility is to unite individuals for the good of the group.

KMA staff concluded the course with Leadership in Action to influence health care policy.  Physician advocacy was foreign to me, but KMA staff presented the information in simple and tangible concepts. The field trip to Frankfort to visit the Capitol and Kentucky's Chief Justice, Michelle Keller was tremendous.
Our final project was to lead discussion panels regarding one of society's most urgent crises – the opioid epidemic.  As a Board certified Addictionologist, I was very aware of the many barriers to adequate delivery of quality care in addiction. Listening to the other physicians' concerns and frustrations with hindrances to their delivery of care convinced me that we needed to advocate for changes to improve the practice of medicine.  This was a superb application of leadership in action to influence health care policy.  My challenge is to incorporate this information and partner with other organizations (Kentucky Medical Association, Kentucky Society of Addiction Medicine, American Society of Addiction Medicine, Lexington Medical Society) to develop resolutions for the next KMA Annual Meeting. The hope is for these resolutions to reach our legislators.
For any physician interested in developing leadership skills, I strongly recommend KPLI. I want to paraphrase President Teddy Roosevelt during his famous "Citizenship in a Republic" speech: You either participate in the shaping of our future healthcare system or you will be shaped by it. Please be one of the shapers because the ones outside the arena complaining will often be shaped and crushed.