Posted September 13, 2021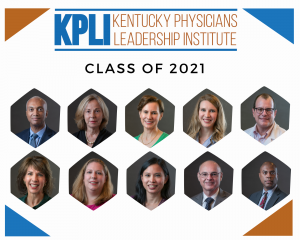 Ten physicians from across the state completed the 2021 class of the Kentucky Physicians Leadership Institute on Aug. 28, 2021. This is KMA's fourth class of KPLI participants, an initiative with the Kentucky Foundation for Medical Care designed to enhance the leadership skills of physicians who can fill emerging leadership roles and influence health care policy in the ever-evolving world of medicine.
As part of their training, KPLI graduates studied the personal, business, advocacy, and communications aspects of leadership, as well as heard from expert guests during the popular "Fireside Chat" sessions.
Bill Bryant, M.D. of Owensboro, Hope Cottrill, M.D. of Lexington, Lewis Hargett, M.D. of Louisville, Christopher Jones, M.D. of Louisville, Evelyn Jones, M.D. of Paducah, Christine Ko, M.D. of Lexington, Melissa Larson, M.D. of Walton, Eric Lydon, M.D. of Louisville, Pat Purcell, M.D. of Louisville, and Leslie Schwindel, M.D. of Cynthiana comprised the 2021 class.
"(KPLI) was such an advantageous experience which allowed me to learn and grow my leadership skills," said 2021 graduate and pediatrician Pat Purcell, M.D.
The Kentucky Physicians Leadership Institute (KPLI) is the premier leadership training program for physicians in Kentucky. Each year, this exclusive program selects up to 15 physicians to participate in a year-long series of learning events that cultivates the next generation of physician leaders across the state. The four weekend events help address many of the challenges facing the physician community.
Physicians interested in joining the 2022 class should contact KMA Education Director Miranda Mosley, mosley@kyma.org.